Tesco stops stocking sky lanterns after farmer campaign
News
•
Thursday 30 January 2014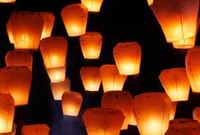 The supermarket giant Tesco has today revealed that it will no longer sell sky lanterns online and in stores.
The decision has come one day before Chinese New Year - 31st Jan 2014 - which is an event that commonly features these lanterns.
They tend to be released as a part of the celebrations.
In the past these lanterns have not only caused fires but they have also been hazardous to livestock and other wildlife. In fact, there have been many cases of cattle ingesting the wire from these lanterns in the field and in forage. There have also been reports of wildlife getting caught up in the wire.
The Director of Agriculture at Tesco, Tom Hind, said: "We have listened to the feedback from customers and other groups including the farming community, and we think the right thing to do is to stop selling sky lanterns.
"We will not be sending any more stock to stores and any existing stock should be gone within a matter of weeks."
Last August, David Robinson, an NFU member from East Sussex, found a Chinese lantern in a barn that was used to store straw for cattle feed and bedding.
He said: "The Chinese lantern landed in my barn which is only about 30ft from the nearest houses. Luckily there wasn't much straw in there.
"The lantern could have incinerated everything nearby and burned folk to death in their homes. People should not be releasing these sky lanterns. They pose a huge fire risk and they threaten human lives."
The NFU is now urging its members to talk to people about the dangers that these lanterns pose to wildlife and farms.
NFU rural surveyor Louise Staples said: "Our members know how dangerous these lanterns can be. They can harm or kill a farm animal which ingests a wire frame in chopped grass. And there's a fire risk to standing and stored crops, buildings, and of wildfires on moorland.
Farmers Guardian has been campaigning since July 2013 for sky lanterns to be banned. To date, many retailers, several councils and the Royal Parks have banned them.
News