Tesco launches Future Farmer Foundation
News
•
Thursday 21 November 2013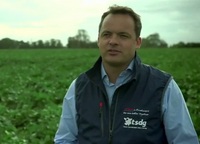 Giant UK supermarket chain Tesco has launched a new project that is aimed at supporting the nation's next generation of farmers.
The Future Farmer Foundation will help these budding youngsters to embark on new business ventures.
In the first year of the scheme, Tesco will offer a minimum of fifteen young people a bespoke package. This will include, leadership training, business planning advice, mentoring, supply chain experience and networking opportunities.
All of the successful applicants will be able to choose a programme that is best suited to their own aspirations and business needs. The supermarket chain is also hoping that the Foundation will also be able to offer training and support to dozens more young farmers during the application process itself.
Richard Marris, Commercial Director of Fresh Foods at Tesco, said: "We're committed to the success of British agriculture, and we want the next generation of farmers, with all their energy, talent, and dedication, to be working with us for decades to come.
"Whether it's guidance on succession planning, advice on financial management, or providing access to a world-leading supply chain, we've developed the Future Farmer Foundation to be a strong base from which the farmers of tomorrow can launch themselves onto their chosen paths."
Beth Bennett, 20, doesn't come from a farming background, however, she now manages a free range egg production unit, that houses 16,000 hens. Beth piloted the supply chain experience element of the Foundation, and found it invaluable.
"The scheme can help you develop yourself as a person to be able to achieve what you want in agriculture," she said.
"Looking into the supply chain, it's been very beneficial to be able to go to the processing plant, and to go to Tesco's headquarters to talk to the technical managers and buyers, to understand what the customer wants."
Sophie Barnes is similarly new to agriculture. She moved to the countryside six years ago and has built up her own flock of 150 ewes. She said: "I know I'm lacking when it comes to business skills – I can look after my sheep, but I've never had anyone teach me how to write a business plan.
"The courses that the Foundation offers, specifically tailored to helping with an agricultural business plan, are something I can't get anywhere else. It's ideal."
Another individual who has benefited from the training available in the Foundation, is Dan Luff. Dan is 26 and farms a herd of beef cattle in partnership with his parents.
He said: "The scheme has helped me by adding new skills to my repertoire, in the way of negotiation skills, helping me with time management and leadership style."
National Federation of Young Farmers' Clubs' Acting CEO James Eckley said: "As one of the largest rural youth organisations in England and Wales, NFYFC works to support young people living in rural areas.
"The Future Farmer Foundation compliments much of the work we do in helping to develop the leadership and business skills of rural young people and we would encourage our members to take up this fantastic opportunity to further their careers in agriculture."
News