Tesco drops supplier over horsemeat found in burgers
News
•
Wednesday 30 January 2013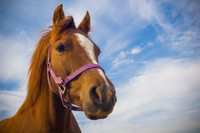 Tesco have claimed that the meat in their burgers that was found to contain horse DNA did not come from a list of "approved suppliers".
The supermarket chain has, however, dropped Silvercrest, part of the ABP Food Group, as a supplier, saying the "breach of trust [was] simply too great", according to the BBC.
Tesco then went on to say that it would be introducing a DNA testing system for meat products in order to "ensure the quality" of its goods.
According to the BBC, Silvercrest, based in County Monaghan, Irish Republic, has yet to comment.
An internal investigation was carried out by Tesco and it discovered that meat used by Silvercrest originated from outside the UK and Ireland, which was contrary to the supermarket chain's policy.
Horse and pig DNA was also found by Ireland's food safety authority (FSAI) in value burgers sold by Lidl, Aldi, Iceland and Dunnes Stores.
Tim Smith, group technical director at Tesco, said the supermarket would introduce a "comprehensive system of DNA testing across our meat products" to stop horsemeat from entering the food chain again.
"Ultimately Tesco is responsible for the food we sell, so it is not enough just to stop using the supplier," he said in a statement.
"These checks will set a new standard. It will be a significant investment for Tesco, borne by Tesco.
"We want to leave customers in no doubt that we will do whatever it takes to ensure the quality of their food and that the food they buy is exactly what the label says it is."
Tesco's planned DNA checks were welcomed by MPs during a Westminster Hall debate on Wednesday morning.
Environment Minister David Heath said supermarkets had a legal and moral responsibility to ensure they know where their products come from.
"Certainly there is the suggestion from Tesco today in this case their supplier had been using produce from a non-registered, a non-approved forward supplier," he said.
"That must be of concern to them in their regulation of their food supply chain."
Shadow environment minister Huw Irranca-Davies also approved of the move, insisting that food checks "need to be far more rigorous" than in the past.
Tesco issued an "unreserved apology" in full-page spreads of several UK newspapers on 16 January in the wake of the scandal.
In one sample from a Tesco beefburger, horsemeat accounted for approximately 29% of the meat content, the FSAI said.
Tesco withdrew the affected products from sale. They included its Tesco Everyday Value 8 x Frozen Beef Burgers (397g), Tesco 4 x Frozen Beef Quarter Pounders (454g) and a branded product, Flamehouse Frozen Chargrilled Quarter Pounders.
In total, about 10 million value beefburgers were withdrawn from sale across all of the supermarket chains implicated.
The environment food and rural affairs committee is due to hear evidence from the government, Tesco and the Food Standards Agency on Wednesday.
News