Ten-year-old boy dies on farm in Northern Ireland
News
•
Wednesday 31 July 2013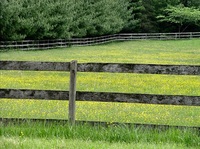 A ten-year-old boy has died on a farm in Co Down, in what became the third death to hit Northern Ireland's farming community in a week.
Health and safety inspectors are investigating the death of young Aaron Macaulay, after he fell from farm machinery on Tuesday.
He was then airlifted to hospital, however, he could not be saved.
According to the Belfast Telegraph, his brother may have also been injured in the incident.
Members of the community have been left distressed after the death of the young boy, who came from a well-respected family who were active within the local church.
George Macauley, a family friend, spoke to the paper saying: "He comes from a highly-respected family, all very much involved in the work of our presbytery."
He travelled to Craigavon Area Hospital, where the boy was declared dead. "His mother was at the hospital and the older brother. They were too distressed to ask any questions," Mr Macauley added.
Barclay Bell, a deputy president of the Ulster Farmers' Union and an arable farmer from Rathfriland spoke about the dangers farms face at this time of year, when farms are busy and children are back for the summer holidays.
Speaking to the Belfast Telegraph, he said: "The farm is also a family home and that may be part of the difference.
"It is another loss of life and a small child so certainly it is not good news for the wider farming family in Northern Ireland."
Last week a father of three died after he fell from a wall on his farm in Co Londonderry and, a six-year-old died after collapsing in the milking parlour of his family farm on the outskirts of Armagh. Six-year-old Harry Starrett was thought to have died in a farm-related accident, however, a post-mortem examination subsequently identified an undiagnosed heart condition.
News