Teacher skins and processes live rabbit in class demonstration - Gets disciplinary
News
•
Tuesday 25 November 2014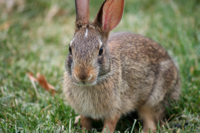 A biology teacher in Idaho is facing disciplinary action after he snapped a rabbit's neck, before skinning it and cutting it up for meat, in a demonstration in front of a 10th grade class.
The teacher raises animals for food on his own personal farm and refused the requests of his children when they asked him to demonstrate how a rabbit is killed, skinned and prepared for a meal.
However, after repeated requests from his students, the teacher eventually succumbed and brought a live rabbit into class to show the students how it is done.
Speaking to news site KTVB, a spokesperson for the school district, said: "The students had asked that the teacher do this demonstration, and when the rabbit was brought in, he gave the opportunity to students to not view the demonstration."
Sixteen of the students decided to stay in and watch the demonstration, which was not a part of the biology curriculum and had not been approved by district administrators.
The teacher then put the live rabbit in a restraint, snapped its neck, then proceeded to skin and process the animal as part of the demonstration.
Some of the students who had opted to stay and watch were distressed by what they witnessed, and their parents called the school to complain.
As a result, the district is taking disciplinary action against the teacher, who has not been identified.
The district spokesperson said: "It's not appropriate in the 10th grade class. It wasn't approved by the administration, it's not part of biology (class), so that judgment is not appropriate for that type of lesson in the classroom at 10th grade."
The teacher has since apologised to the class for the demonstration.
In response to the incident, a number of people have commented stating that the teacher did nothing wrong.
One commenter said: "I'm not getting what the problem is. Nampa's an agricultural area. I live in Kuna and I've bought meat from kids who raised the animals. The kids asked and the kids who didn't want to watch didn't have to. What's the problem?"
Another person said: "How old are sophmores? About 16? How many that age go hunting with an adult and learn how to kill, gut, and skin a deer or elk? I've never done it, but my husband and son have, just like thousands of dads and sons and/of daughters."
What do you all think? Did the teacher overstep the mark? Was it a good lesson for the kids?
News