Supermarkets putting more and more British meat on their shelves
News
•
Monday 09 December 2013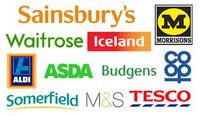 It seems that retailers across Britain are showing a marked improvement in sourcing British beef and lamb. Figures revealed that the average percentage of British beef on supermarket shelves was 83% in November, with lamb standing at 88%.
The figures, which were released by EBLEX, are both up on the previous month, with lamb at one of the highest levels seen in recent years.
One supermarket that is performing particularly well is Morrisons, which is committing nicely to British sourcing. Morrisons consistently has the highest levels of British beef and lamb facings in store.
Aldi, Lidl, Sainsbury's and Waitrose are all continuing to choose British, but Asda is still the worst performer of the major retailers.
NFU Deputy President Meurig Raymond said: "It's clear that retailers are now starting to recognise the importance of promoting farm assured Red Tractor British beef and lamb which we know more consumers want to buy.
"These latest figures show improvements across the board although some supermarkets are still doing better than others. I'm pleased to see Tesco improving its commitment to British lamb although it's disappointing that the levels of British beef on the shelves have fallen in the past few months.
"The fact that Morrisons is consistently stocking both 100 per cent beef and lamb is a shining example that I hope other retailers will follow.
"While there have been improvements, it's clear that more needs to be done and the NFU remains committed to working with all retailers to improve their commitment to sourcing British."
News