Study into viability of a new abattoir in the New Forest area
News
•
Monday 21 January 2013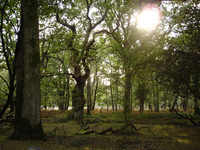 The South East arm of the National Farmers' Union is asking farmers in and around the New Forest to get involved in a new study, which will assess if a locally-based abattoir would be viable.
In 1992 the last abattoir in the New Forest area closed and since then local farmers have had to travel long distances with their animals. This has increased costs and the time their animals are spending on the road, so there have been suggestions of a new local abattoir being opened.
The NFU's website stated that an abattoir local to the New Forest could also help 'improve the supply of meat and help develop higher quality and higher value local products'.
They also stated that the lack of a local facility has been identified as a barrier to increased resilience of the local food economy.
A steering group of local organisations is running the initial feasibility study, which is being funded by New Forest Rural Development Programme England (Leader) and the New Forest National Park Authority.
The study itself is looking to see if a local facility is financially viable, and if do, it is looking to recommend different business models which will look at how it could be owned and operated.
Sam Dovey, New Forest Group Secretary for the NFU, said: "We have an opportunity to look at the production figures for the Forest and wider area, including the Isle of Wight, to see if farmers would support a local abattoir, and if so, what steps we could take to make this happen. We really need replies from the Isle of Wight and areas surrounding the Forest to gain a true picture."
Sally Igra, of funding body New Forest RDPE (Leader), said: "A sustainable livestock sector is a key priority for New Forest rural development and we are very pleased to be able to support this important feasibility study."
Get involved and fill out an online questionnaire by visiting www.surveymonkey.com/s/abattoir or to be sent a paper copy with a freepost envelope, contact email [email protected] or tel. 01590 64 6648.
The biodiverse environment of the New Forest depends upon grazing animals and it is the best example in Europe of a grazed lowland heathland complex.
Picture: Claire Rowland
News