Spread of solar panels to be stopped by Defra by cutting subsidies
News
•
Tuesday 21 October 2014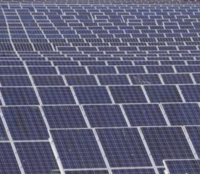 Defra has announced that farmers who fill their fields with solar panels will lose their right to claim subsidies.
The government announced this in order to stop the English countryside becoming "blighted by solar farms" and to also ensure that more land is being dedicated to growing crops and food.
This new ruling will come into effect from next January and any farmers who allow solar panels in their fields will then no longer be eligible for any farm subsidy payments through the EU CAP.
Another announcement was made earlier this month by the Department for Energy and Climate Change (DECC), which revealed that the Renewables Obligation subsidy for new large-scale solar farms with a capacity greater than 5MW will come to an end next April.
A third change was made earlier in the year when the Department for Communities and Local Government changed the planning rules in order to prevent any solar installations being installed in fields that have the capability to be used for farming.
Speaking about these latest decisions Elizabeth Trust, the Environment secretary, said: "English farmland is some of the best in the world and I want to see it dedicated to growing quality food and crops.
"I do not want to see its productive potential wasted and its appearance blighted by solar farms.
"Farming is what our farms are for and it is what keeps our landscape beautiful.
"It makes my heart sink to see row upon row of solar panels where once there was a field of wheat or grassland for livestock to graze."
And what alternative has Truss offered? Well, she has stated that these solar panels could be better placed on the 250,000 hectares of south-facing commercial rooftops.
Defra has said that this change in the subsidies would save the taxpayer up to £2 million each year.
According to the department there are currently 250 solar farms in the English countryside, with the largest one covering around 100 hectares.
Leonie Greene from the Solar Trade Association spoke out against these changes saying: "It is damaging and incorrect for DEFRA to suggest that solar farms are in conflict with food production.
"The government's own planning guidance makes clear that farming practices should continue on solar farms on greenfield land.
"The industry, working with the National Farmers Union, has been very careful to define good practice to ensure continued agricultural production.
"The land is still available for farming – the solar fixings only take up 5 per cent of the land. This means plenty of room for continued agricultural practices such as sheep, geese or chicken farming."
News