Slurry fetish man jailed for threatening farm owners
News
•
Tuesday 17 June 2014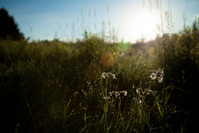 A man from Cornwall has been jailed for five years for threatening to kill a family who attempted to stop him from using their farm to fulfill his cow slurry fetish.
David Truscott, 44, was often found rolling around naked in the cow slurry and he also developed an obsession with the farm in question, situated in Redruth, Cornwall.
He was recently tried at Exeter Crown Court, where it was said that Truscott had targeted the property for eight years.
He admitted, last year, to making threats to kill and also damage the property, according to the BBC.
The court heard how he had initially begun by removing cow pats from the farm. However, his behaviour was reported to have escalated as he regularly entered the farm to perform a sex act in the slurry.
The owners of the farm had attempted to deter him by erecting bollards on the farm. They also removed the slurry in a further attempt to bring an end to Truscott's visits.
The court was then told how Truscott decided to take revenge on the owners and he repeaedly set fire to their shed, tractor, enclosures and hay. In one blaze a poor calf was killed and Truscott was jailed in 2005, 2009 and 2011 for his actions.
Last month he was handed an extended sentence of 10 years which would follow psychiatric reports.
Judge Philip Wassall said that Truscott would spend the first five years of his prison sentence receiving hospital treatment.
Truscott, who has autism spectrum disorder, will serve an extended licence period of five years on release from prison.
The judge went on to impose an extended restraining order which would keep him away from the farm.
Adam Rowden is a writer for Farming Ads view his
Google
+ page.
News