Sky News reveals shocking video of abuse at UK horse abattoir
News
•
Monday 21 January 2013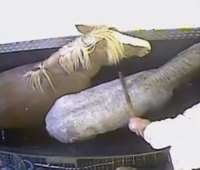 Over the weekend Sky News uncovered some shocking animal welfare conditions at a​ UK horse abattoir including video footage of the animals being beaten.
The horses were also found to have been neglected, and this story has come amid plenty of public anger over the recent horsemeat scandal.
The horses in question were destined for European food markets and sky also discovered some illegal procedures in the slaughtering process.
Animal Welfare Group Hillside Animal Sanctuary raised their concerns over the Red Lion Abattoir near Nantwich in Cheshire, and Sky News visited the site.
The investigators fitted secret cameras which filmed horses being beaten with an iron rod to encourage them into pens.
The video also revealed some of the horses being crammed into slaughter pens in pairs and, on one occasion, a group of three were shoved in a pen and stunned together.
The horses are then seen to all fall on top of one another, which is illegal under The Welfare of Animals Act 1995. The act states that horses are not to be slaughtered in sight of one another because of the distress it causes.
The Sky News team also discovered that sick or injured horses were left untended overnight as opposed to being put down immediately.
As a result of the investigation, two slaughter men have had their licences revoked.
Craig Kirby, head of approvals and veterinary advice at the Food Standards Agency (FSA) told Sky News: "As soon as we got the footage and reviewed it we took immediate action to revoke the slaughter men's licences.
"That means they cannot work to slaughter animals again. We will also look to gather further evidence to see if we can prosecute."
Former government chief veterinary officer Keith Meldrum, who viewed the footage, said he was shocked by what he described as "appalling" welfare breaches.
"We see three animals stunned at the same time and it is totally illegal and contrary to welfare slaughter regulations," he said.
"It's a significant welfare problem for a number of reasons. It's harder to render them unconscious in a group and they have a higher chance of regaining consciousness before you've completed the procedure."
Another incident filmed included a horse that appeared to come round from the stun while being hung upside down before being bled. Mr Meldrum described it as "totally and completely unacceptable".
News