Six-year-old boy dies on farm in Northern Ireland
News
•
Wednesday 24 July 2013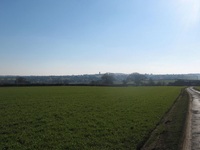 A six-year-old boy has died on a farm in County Armagh, Northern Ireland, in a tragic accident.
According to the BBC, an ambulance was called to the farm, which is on the Ballynahonemore Road just outside Armagh City at around 17.15 on Tuesday.
The boy, who has been named as Harry Starrett, was then taken to hospital and it is believed that he had been at his grandfather's farm.
According to a number of local councillors, slurry gas may have been involved in the incident.
The Health and Safety Executive Northern Ireland (HSENI) is now investigating the incident.
Harry Sinclair, the president of the Ulster Farmers Union, said that everyone was in a state of shock.
Speaking to the BBC, he said: "Our thoughts go to that family and the whole agriculture community will be thinking of that family."
Lord Mayor of Armagh Robert Turner also spoke about the incident saying it was "another farm tragedy".
"The entire area is in a state of shock that a six-year-old boy has lost his life," he said.
"I know his family and I wish to pass on my sincere condolences."
In Northern Ireland last year, 12 people were killed as a result of farm-related accidents.
Of those who died three were members of one family in County Down - Noel Spence and his sons Graham and Nevin.
News