Significant impacts expected after Neonicitinoids ban
News
•
Wednesday 01 May 2013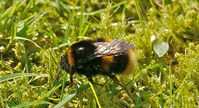 After a 15 to eight vote of EU member states, the European Commission will now restrict the use of neonicitinoid pesticides, which some researchers have linked to bee deaths.
Starting at the beginning of December 2013, farmers will no longer be able to buy or sow treated seeds of crops deemed attractive to bees. This ruling will stay in place for a two-year period, at which time a review of evidence will be held.
This decision has come as a blow to farmers who are relying on these affected pesticides to keep their crops, especially oilseed rape, clear of yield-sapping pests. Analysts have estimated that the cost to the UK economy will be around £630m.
Fifteen countries - including Germany - voted in favour of the ban, which was not enough to form a qualified majority but was enough for the Commission to use its powers to impose a two-year restriction.
Eight nations voted against the proposal, including the UK and Italy, and four countries abstained.
Dr Chris Hartfield, the NFU lead on bee health, said: "The Commission's decision to ban three widely used neonicotinoids is likely to have significant impacts for food production and unintended consequences for the environment, without delivering any measurable benefits for bee health.
"It is right that we take steps to protect bees – they are vital pollinators, but any action needs to be proportionate to the problem. Crucially, we have to be confident that when we make changes, these changes will actually deliver benefits.
"At the moment, there is no evidence to show that there are any harmful effects of neonicotinoids on bees under field conditions. If we cannot find evidence of harm in the field, then it follows that we will not be able to measure any benefits of a ban either.
"This issue is about science and evidence, and finding a balanced way to tackle the significant challenges to bee health. However, it looks like we are about to make populist changes that do nothing to measurably improve the situation for bees, but will make it harder and more costly for farmers and growers to control pests on a whole range of agricultural and horticultural crops."
News