Sheep farmers from the UK and New Zealand get together to discuss the industry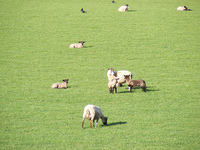 Sheep farmers in both the UK and New Zealand have had a challenging 12 months, with the recent difficult weather, high input prices and extremely volatile markets.
Farmers from both countries have been getting together to develop a better understanding of the issues that they face by sharing their experiences. NFU, NSA and Eblex representatives met with Don Morrison, the director of Kiwi sector reform body, the Meat Industry Excellence.
The agenda was full and focused on a number of points, including genetic developments, production systems, market drivers, contracts and farmer co-operation around the world. The event was geared towards a sustainable sheep sector.
Farmers from both sides found common ground in the belief that improving the lot of sheep farmers starts with a better understanding of the pressures faced by each industry.
Charles Sercombe, the NFU livestock board chairman, said: "We speak regularly to farming representatives in other countries like New Zealand, and it never ceases to amaze me just how much we have in common, and how we as sheep farmers in the UK face the same challenges as our counterparts.
"Like us, sheep farmers in New Zealand want a sustainable industry that allows farmers to invest, provides opportunities for the next generation, and delivers a quality product to the consumer.
"We've all been hard pressed this year, with bad weather, high input prices and a volatile market, with many getting prices below their costs of production. That's not sustainable for the industry, and it's not going to secure top quality lamb product for consumers.
"There is considerable appetite in New Zealand to reform the industry to restore confidence to the primary producer after a very difficult 12 months over there. They are also looking at their marketing strategies, after their strategy this year failed to deliver for grass roots farmers."
News