Rural economy hugely benefits from small wind power
News
•
Tuesday 22 October 2013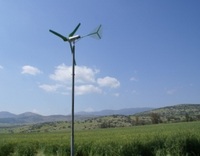 The NFU is claiming that the success of small and medium wind turbine installations under the government's renewable electricity Feed-In Tariffs scheme could almost have been overlooked. This success could have been missed due to the dominance of solar PV projects, according to the union.
A large number of people in the UK associate onshore wind power with the larger developer-led wind farms, however, there is also a thriving market segment of single turbines installed to meet the on-site power needs of individual businesses. Many of these businesses are farm enterprises.
And a report published last week by trade association RenewableUK shows that in 2012 this sector almost doubled its turnover to over £100m.
Britain now has 102 megawatts of small wind capacity, which comprises of over 23,000 turbines, many of which are very small.
You can compare these figures with around 4,000 large turbines in onshore wind farms, which provide 6,500 MW of capacity.
The majority of the smaller wind turbines in the UK are installed on farms (64%) and domestic rural properties (22%), which shows just how small and medium wind power plays such a significant role in the rural economy.
About half are grid-connected and half in off-grid (battery-charging) systems. However, difficulties remain in achieving planning permission and with revisions to the level of Feed-In Tariffs available. With its excellent wind speeds and growing small turbine exports, the UK has developed a strong manufacturing base in this area.
News