Rural crime costs UK farms over £44m
News
•
Tuesday 12 August 2014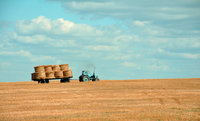 The farming industry in Great Britain is continually facing up to a national crimewave.
Figures from the NFU Mutual's Rural Crime Survey put the cost of crime to the rural economy at £44.5m in 2013 – up 5.2% on 2012.
Rural insurer NFU Mutual has released its latest figures which revealed what items are being targeted by thieves.
It revealed that high-value tractors, quad bikes and livestock were high on the list, with the number one stolen item in rural crime being tools.
Thieves are also targeting lower-value tractors, which aren't fitted with high-tech systems. These tractors are being stolen and then exported to developing countries.
Fuels, such as domestic heating oil and 'red' diesel, are also high on the list.
The last 12 months have also seen the rise of a new trend in crime, which involves the theft of pesticides from farm chemical stores. One specific case saw a single raid end up stealing nearly £20,000 worth of chemicals.
Tim Price, NFU Mutual Rural Affairs Specialist at NFU Mutual, said: "After a welcome fall in the cost of rural theft in 2012, it's deeply disappointing to see it rising again. Much of this increase is from tractors – which can be worth up to £80,000 – being targeted by organised criminal gangs.
"There is no doubt that both opportunist criminals and members of international criminal gangs are targeting farms, While the first group will often move on to an easier target if they see a farm has even basic security in place, the latter are professionally organised with a specific target, so it's vital that farmers regularly review their security measures and update them to keep one step ahead of would-be thieves."
NFU Mutual has offered up a suggested farm security checklist, which could be very useful in helping farmers keep their machinery and livestock safe.
So, read this carefully and hopefully you will not fall victim of rural theft...
Remove keys and secure cars, tractors, and other vehicles when unattended

Keep gates to farm yards closed whenever possible

Fit CESAR marking systems and immobilizers to tractors

Use security lighting in yards and drives

Have the Vehicle Identification Number etched on vehicle windows

Consider immobilizers and tracking devices for more expensive machines/cars

Physically secure ATVs using suitable locking devices or heavy duty security chain and padlocks

Record machinery serial numbers

Mark livestock clearly and count them regularly

Mark valuable tools and equipment with unique identification

Ensure computers are kept in well-secured buildings

Lock up tools, equipment and vehicles out of sight
News