RSPCA angered over announcement to allow badger cull
News
•
Thursday 28 February 2013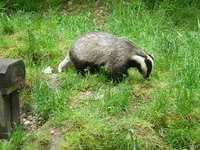 The RSPCA has announced that it is 'outraged' that the government has decided to go ahead with its plans for a badger cull in parts of England this summer.
The animal charity claimed that the government is ignoring public, parliamentary, EU Commission and scientific opinion in doing so.
Pilot culls were planned and due to go ahead last autumn, however, they were initially postponed.
Yesterday (27 February) Defra issued a statement that said the final licences had been granted and that the culls would begin in June. They also stated that they were 'preparing' a third pilot cull area in Dorset.
RSPCA chief executive Gavin Grant said: "Despite overwhelming scientific, public and parliamentary opposition the Government seems hell bent on pressing forward with their senseless plans to kill badgers.
"All the evidence shows that the answer to the problems of bovine TB in cattle does not lie in a cull that will be an ineffective, wasteful and potentially damaging to the welfare of both farm and wild animals.
"We care about cattle and badgers alike and have great sympathy for the farmers dealing with the effects of this disease – but killing badgers is not the answer."
The RSPCA also claims that there are alternatives to the cull. On their official website they said:
'Just yesterday, the EU commission gave evidence to the government and said that the only way to get rid of the disease in cattle was to improve cattle movement restrictions, and that the UK was the one of the few countries in the EU that allowed so much cattle movement.
'Vaccinations of both badgers and cattle along with more effective biosecurity is the way forward to secure the welfare of both cattle and badgers and the long term livelihood of farmers.'
What are your views? Are the culls an important step towards tackling Bovine TB or are they an unnecessary and potentially damaging to the welfare of both farm and wild animals?
News