Rising the prices of food is not enough to help British farmers say NFU
News
•
Tuesday 23 July 2013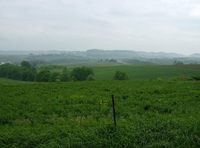 Philip Clarke of Tesco spoke to the Observer this Sunday - 21st July - and warned that the prices of food will rise, after a poll revealed that UK residents would be willing to pay more if more money went to farmers.
He told the paper: "Over the long run I think food prices and the proportion of income spent on food may well be going up. Because of growing demand it is going to change. It is the basic law of supply and demand."
Clarke made this statement after a new poll, which was commissioned by the Prince's Countryside Fund, revealed that a majority of British consumers would be willing to pay more for food if they knew that this extra money was going to farmers, as opposed to supermarket shareholders.
The YouGov poll also indicates that more than 80% of consumers think it is important to buy British produce where possible as a way of showing support for the nation's farmers.
The NFU responded, on Monday, to this article and their chief economist, Phil Bicknell, said: "The media have inevitably picked up on Philip Clarke's comments about food prices going up, but the reality is that our food prices have been heading upwards for several years.
"Indeed, food and drink inflation has seen prices rise by 43% since January 2006.
"Mr Clarke correctly points to demand pressures in the long term driving food prices up, but it's the supply issues that have been fundamental to the sometimes dramatic changes in agricultural commodity and farm input markets since 2007.
"This has again been emphasised in the last year as 2012's drought in the US pushed several agricultural commodities to record price levels.
"The myth that higher prices is all good news for farmers doesn't stand up to scrutiny. We've seen escalating feed bills for livestock farmers due to high commodity prices, and farm input costs in the UK have risen 64% since 2006.
"The reality is that all UK farming sectors have seen their bottom line hit in the last year – profitability for dairy producers down by 44%, pig producers seeing profits slashed in half and uplands farmers seeing their returns drop below £15k according to the latest government statistics.
"Arguably the bigger challenge for all in the agri-food supply chain is not higher prices, but how we all manage volatility that's increasingly characteristic of the farming's production costs and the prices farmers receive for what they produce.
"Just as farming cannot survive on low returns, it also cannot lurch from profit to loss from one year to the next. To be sustainable, to encourage investment in our businesses, and simply to ensure that we are able to plant next year's crop or raise next year's livestock, we need our farmers to be viable businesses.
"As part of the same supply chain, Tesco and other retailers have more than vested interest in supporting British farmers – it should be critical to their future and it crucial to their ability to supply the food the nation demands."
News