Prospects for wool farmers are on the up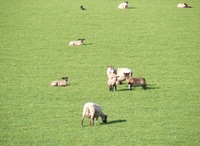 Sheep farmers in the UK are being urged to support the British Wool Marketing Board scheme. They have been called to show their support after the predicted increased demand for the product this year.
Last year was a turbulent period of trading and the prices and clearance rates fell sharply, however, the BWMB has announced that it is now in a stronger marketing position heading into the new wool season.
The BWMB Chairman and English Northern Board member, Malcolm Corbett, told a recent meeting of the NFU livestock board that there are signs that the international markets are picking up in countries such as China, which is a major trading area for British wool.
He also went on to mention that the increased demand for wool products is partly down to the significant work of the Campaign for Wool across the globe. This campaign showed the versatility of wool as a truly modern and sustainable fibre.
Charles Sercombe, the NFU livestock board chairman said the time was right for wool. However, he also warned that any wool sold outside the BWMB auction system could reduce the value of wool to all producers.
"There is now a clear demand for wool as consumers are becoming more familiar with the environmental and green agenda," he said.
"However, we need to see a real commitment from our sheep farmers to support the British Wool Marketing Board so that we can promote wool, market and sell it in order to achieve the best possible price."
The Livestock Board has since, called on the BWMB to look at their structures in order to allow a bigger proportion of the returns to find its way to farmers. They stressed that this is especially important this year, when the cash flows are stretched to their limits.
Mr Sercombe added: "The NFU is also advising sheep farmers to check for any tax implications when selling wool outside the BWMB scheme. Livestock keepers may be liable to a VAT charge on a sale unless it can be proved that the wool has left the UK within three months of the sale."
News