Prince Charles criticises supermarkets and defends farmers
News
•
Wednesday 13 November 2013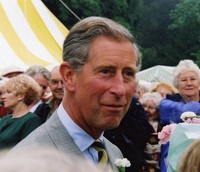 Prince Charles has spoken out against large supermarkets claiming they put the "squeeze" on "battered" farmers by driving down prices and leaving them on the brink of poverty.
The Prince of Wales made his comments in Country Life magazine, which he has guest-edited to mark his 65th birthday.
He was outspoken in his attack on food retailers, in which he claimed the farmers were forced to act as a "buffer" by shouldering all the risk in times of crisis, while the shareholders "do so much better out of the deal".
The Prince has his own organic farm at his Highgrove estate in Gloucestershire and is also a landlord in the Duchy of Cornwall. He said that he feared there will be "huge problems in the future" because some farmers have to survive on as little as £8,000 per year. This means that they are now not able to make long-term investments.
A long term campaigner for small farmers, The Prince has supported them through his Countryside Fund grants and he said that the countryside is "the unacknowledged backbone of our national identity".
In his article in Country Life, he said: "It is as precious as any of our great cathedrals and we erode it at our peril."
He also noted that farming was a way of life and that most farmers accept the facts that they will never earn what they could if they did other jobs.
"This does not mean they should be penalised for choosing such a vital profession," he wrote.
"Yet small farmers find themselves in the iniquitous position of taking the biggest risk, often acting as the buffer for the retailer and consumer against all the economic uncertainties of producing food, but receiving the least return."
Supermarkets have such a large amount of power over their supplying farmers, that they can force them to pay for their special offers on food by threatening to withdraw business if they refuse.
The Prince went on to say that in recent times, farmers "have taken a battering" because of hard winters, animal disease and spiralling fuel and feed costs.
"It cannot be right that a typical hill farmer earns just £12,600, with some surviving on as little as £8,000 a year, whilst the big retailers and their shareholders do so much better out of the deal, having taken none of the risk.
"Such is the squeeze on farm incomes that many small and medium-sized farms, and not just in the uplands, cannot afford to make crucial long-term reinvestment, and I fear this will create huge problems in the near future, especially in the dairy sector."
Prince Charles stated that he was "greatly concerned" about the fact that the average age of a British farmer is 58. He also questioned where the 60,000 new farmers the country will need over the next decade will come from.
One suggestion in his article was to use school science lessons to promote farming as a career by emphasising that science and engineering are "fundamental" to a career in agriculture.
When speaking on the topic of organic farming, Prince Charles mentioned some research by the University of Sheffield, which suggested that there are only enough nutrients in the soil for another 100 seasons at the current rate of intensive farming. He went on to say that the nutrients need time to return to the soil naturally, which can be done through crop rotation.
The amount of food wasted by wholesalers also came under criticism in The Prince's article, after a recent UN report suggested that 40% of food in developed countries is wasted.
He also used the column to hit back at some of his critics, saying: "Some critics suggest my 27-year Patronage of the Rare Breeds Survival Trust is some sort of romantic attachment to a bygone age, but again, my reasons are rooted in hard-nosed science and face the future.
"The preservation of these breeds and the characteristics in their genes could be crucial to our ability to farm sustainably."
News