Prince Charles comments on Britons' vague understanding of farming
News
•
Wednesday 12 November 2014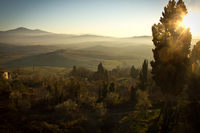 Many Britons only have a "vague understanding" of farming, according to the Prince of Wales, who was outlining his worries for the future of the countryside.
Prince Charles made his statement in a foreword for Country Life magazine which marked his 66th birthday on Friday.
He warned that the population has lost "any real connection with the land" and went on to urge people to value the landscapes or risk losing them altogether.
Mark Hedges, the Editor of Country Life, said: "The Prince has a deep understanding and connection with every aspect of people working and living in rural Britain."
In his foreword, Prince Charles said: "People in the UK are now four or more generations removed from anyone who actually worked on the land - and it frequently shows in their attitudes.
"They are increasingly suspicious of it. At the same time, they treasure the countryside.
"The rich, natural tapestry that is the countryside we value so highly does not just happen by itself. But that delicately woven tapestry is facing unprecedented challenges."
He went on to write about the many benefits the countryside has to offer. He stated that the meadows and grasslands store tonnes of carbon whilst providing homes for pollinating insects, support the agricultural economy and offer plenty of beauty spots that help boost local tourism.
Speaking of the potential consequences of our lack of love for the countryside, he wrote: "Start pulling out the threads and the rest unravels very rapidly indeed. and is very difficult to put back again - no farmers, no beautiful landscapes with hedgerows and stone walls; no thriving rural communities, no villages - or village pubs; no local markets, no distinctive local foods."
Prince Charles established the Countryside Fund in 2010 and since then it has provided more than £4m in grants to those who care for the countryside. It has helped over 80,000 people and 140 communities.
A spokesman for the Department for Environment, Food and Rural Affairs said that Britain's farms were the "powerhouse of the economy" and added: "Prince Charles is right that we need to value our countryside and protect it for generations to come."
News