Poultry industry in the UK has a good future ahead
News
•
Tuesday 05 November 2013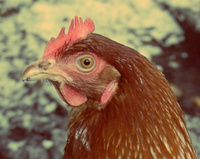 The poultry industry in the UK has plenty of potential for the future according to the President of the NFU Peter Kendall.
Mr Kendall made this statement yesterday, when he also stated that there were a number of exciting opportunities facing the sector.
Speaking at the Egg and Poultry Industry Conference (EPIC) in Warwickshire yesterday, he said: "Poultry represents the biggest meat sector in the UK and must continue to demonstrate why it should be seen as an exciting, innovative industry that is increasingly competitive while at the same time building capacity to feed a growing UK population."
He also stated that an environment should be created in order to allow poultry businesses to have the confidence and opportunity to invest.
"Let's address market failure and iron-out volatility to enable the entire food supply chain to grow," he continued.
Mr Kendall even went on to speak about the horsemeat scandal, which took place earlier this year. He stated that the scandal presented a "fantastic opportunity" as the supermarkets then went to shorten their supply chains and stock more British produce.
He said: "Consumers are increasingly showing their support for British farming so we need to continue to promote British poultry as an affordable, healthy, versatile protein food.
"There will be difficulties to overcome in delivering this exciting future - a fair and better functioning supply chain will be key to getting transparency and putting more British food on more British plates, overcoming planning issues to create high welfare sheds, we need to access competitively priced feed, but most of all we must be able to attract young people to this technological sector.
"We must work together to ensure any breaks in these developments are addressed as speedily as possible.
"I'm really optimistic that the poultry industry can embrace these challenges and has a bright future."
The EPIC conference is held annually, this years event was the 47th. The theme for this year's conference is 'Embracing the Demands of Consumers & Society'.
News