Poultry farmers see positive effects of renewable energy
News
•
Thursday 04 April 2013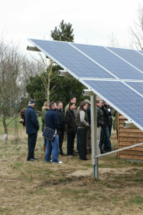 Young poultry farmers from around the United Kingdom have been learning all about how renewable energy can make a positive difference to their business.
Members of ABN's Poultry Industry Programme visited a farm in Norfolk, along with some members of the NFU. Once there the group was able to see solar arrays, a wind turbine that was built especially for the visit and a potentially groundbreaking biomass unit, which could eventually be used for transforming chicken litter into clean and cost efficient energy.
"The wider farming industry faces a number of challenges and renewable energy is just one example but it also provides a number of opportunities." Said Chris Dickinson, the NFU's poultry adviser.
He continued: "Nigel Joice's Uphouse Farm was kind enough to host this event where the young poultry professionals, who we hope will end up becoming some of the industry's future leaders, got to learn more about how they can make the most of renewable energy and how they will increasingly be putting these various schemes to use as part of their businesses."
Partners on the day included BHSL, which built the biomass unit, solar panel firm Ren Energy and Windcrop. Experts from all three companies gave the poultry producers an insight into how they work, and there were further talks by the NFU's chief renewable energy adviser Dr Jonathan Scurlock, Andrew Kneeshaw from the Farm Energy Service and Craig Dasilver from Applied Poultry.
The general manager of Windcrop's Yorkshire office, Richard Moody, said: "Having already worked with poultry farmers across the UK, we are proud to be involved in inspiring a new generation. Using farmland and facilities to generate on-site, environmentally friendly energy not only helps to cut carbon footprint but also reduces costs and can provide an additional source of revenue.
"The adoption of renewable energy will help the industry's up-and-coming talent to continue building innovative, profitable and sustainable businesses for the future."
Picture courtesy of the
NFU
News