Poll reveals only 34% of people are against the badger cull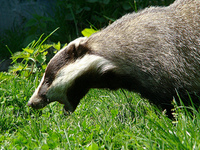 A new YouGov poll has shown that while 34% of people oppose a badger cull, the remaining 66% either support the measure (29%), don't know (22%) or have no strong feelings (15%).
The survey has also revealed that over a quarter people (27%) opposed to a cull, would change their mind if it meant that TB did not spread to other areas of the country.
Out of the 1,763 people who are asked, only 2% considered the cull to be one of the most important issues facing the country at this current point in time.
The NFU has welcomed the new report. Adam, Quinney, the Vice President, said: "The findings of this survey by YouGov show that the majority of people, 66% either support the cull, have no strong feeling or simply don't know.
"The results also show that a badger cull is not a big issue for the vast majority of the British public. But to the thousands of farming families living with the constant threat of TB, and its devastating effects on their businesses and families, tackling this disease is the most important issue in their lives.
"More than 38,000 cattle were compulsorily slaughtered in Great Britain in 2012 in the fight against TB and we must take action now.
"A cull is not about wiping out badgers. It is about reducing TB in areas where it is endemic. This will ensure this terrible disease doesn't spread to areas of the country that are currently clear of it.
"Farmers are already playing their part in tackling TB. Robust new on-farm rules were introduced in January 2013 as part of the Government's TB eradication plan, which aims to tackle all aspects of TB infection in the countryside. These rules followed the introduction of additional cattle controls, more pre-movement testing and increased on-farm biosecurity measures last July.
"But if we are to successfully tackle TB action has to be taken to deal with the reservoir of disease in our wildlife. Evidence from countries such as Ireland and New Zealand shows that when all fronts of the disease are tackled at the same time a significant reduction in TB can be achieved."
The YouGov poll result was backed up by a separate survey carried out for The Grocer earlier this month which showed that 55% of consumers accept the cull is necessary or support it as long as it is done humanely. The survey also showed that only 4.5% of shoppers mentioned the badger cull unprompted when asked about controversial issues facing the dairy industry.
The YouGov figures have been weighted and are representative of all English and Welsh adults (aged 18+). More information about the survey can be found here.
What do you think? Are you for or against the badger cull? Do you have any other alternatives?
News