Police snipers helicoptered into city centre to shoot dead two cows that went on a 'five hour rampage'
News
•
Monday 13 October 2014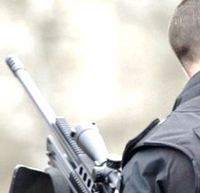 A helicopter full of armed police were deployed and roads were closed in Norwich after some cows escaped from a nature reserve before going on what some news outlets have described as a 'five-hour rampage'.
The animals escaped whilst they were being loaded onto a lorry by their owner and two of the cows were eventually shot dead by police snipers, with one managing to escape.
The police stated that the two animals were shot dead in the 'interests of public safety' and the third cow, which was described as 'very angry' was found dead later on in nearby woodland.
Norfolk Police was forced to close roads around the city in the search for the rogue cows. The search itself was hampered by a severe lightning storm, but eventually the animals were located.
The Officers stated that they were 'left with no choice' but to shoot the cows dead after they became increasingly distressed and behaved more and more erratic.
However, some people have spoken out about the over-the-top response to some cows being on the loose in the city.
One local spoke to the Daily Mail saying: "I heard there's a cow on the loose. It's a bit much for a cow."
A spokesperson from PETA, the animal welfare charity, said that killing the animals was unnecessary. Ben Williamson spoke to the Daily Mail saying: "Usually, where there's a will, there's a way to round up frightened cows without the use of lethal force.
"Although it may sometimes be appropriate for dangerous situations involving animals, questions must be answered about how these cows came to be loose on a public highway, a situation dangerous not only for drivers but also for the cows, who ended up as the victims."
PETA has since called on the local authorities to thoroughly investigate the incident.
News