Peter Kendall at the NFU says supermarkets need to do more to "back British lamb"
News
•
Thursday 03 October 2013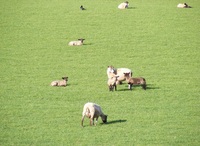 The NFU has praised Aldi, Budgens and Morrisons for their work in ensuring that they have 100% British lamb on their shelves. However, the Union went on to express that it is disappointed with the fact that the proportion on sale in Tesco in August was as low as 55%.
The latest figures to be released by EBLEX have shown that M&S, Waitrose and Sainsbury's all ensured that at least 85% of the lamb on their shelves carried a British label.
Peter Kendall, the NFU President, commented on these findings, saying that more needed to be done, especially by Tesco.
"In July, I called upon all retailers to celebrate British lamb as 'best in season', putting it front and centre of their displays and really getting behind our sheep farmers," he said.
"It's great that most appear to be taking that message on board, including Tesco, which has invested in national advertising of UK lamb. However, the results of this survey show there is still an enormous amount of work to do within Tesco to increase their British sourcing.
"It is now seven months since Philip Clarke made bold promises to increase their British sourcing at the NFU Conference, and many hard working sheep farmers will be asking serious questions about whether this was a genuine commitment.
"While we are confident that Tesco is working on plans for the future, it is concerning that their promises to UK agriculture don't seem to be reflected in current commercial buying behaviour. These figures suggest they are clearly buying less UK lamb than last year, showing that between January and August there has been a 10% drop in the amount of British labels in the Tesco lamb chillers.
"We believe that all parts of the supply chain must work together to ensure a stronger British sheep industry and we know there is scope to increase British sourcing and get more British lamb on more British plates.
"We will continue to hold retailers and other parts of the supply chain to account on both their sourcing and their communications."
"Many sheep farmers are still rebuilding businesses following the difficult market conditions last year and confidence is fragile, reflected in the low prices for breeding stock seen this year.
"Farmers are relying on strong autumn sales to restore balance sheets and the global supply situation is forecast to remain tight. Every ingredient is there for a successful season and it's now imperative that agriculture's biggest customers are all fully behind British lamb."
News