Percentage of people working in farming is falling
News
•
Thursday 06 June 2013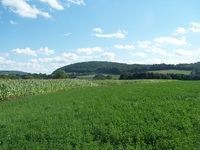 The proportion of workers in England and Wales who are in agriculture and fishing fell to 0.9% in 2011 according to a report. The report was carried out by the Office for National Statistics and it analysed censuses from 1841 to 2011.
The fall in agriculture and fishing workers means that there are now only 200,000 people in the industry.
Farming is now the smallest industry in England and Wales compared to 1841 over a fifth of workers were in agriculture and fishing. The industry has declined since then as better transport allowed for more importing of goods, whilst better machinery has also been taking the place of farmhands.
The Office for National Statistics (ONS) spoke to The Telegraph saying: "In 1900 one agricultural worker fed around 25 people in Great Britain, by 2010 one agricultural worker fed 200 people,"
"Increased globalisation and dependence on imports to supply the increasing British population with the food it needs has run alongside the decline in the Agriculture and fishing industry within England and Wales."
The area that currently hosts the largest proportion of farm workers is Powys, a mountainous area of Wales that is perfect for hill farming. Almost 9% of the residents in the area are employed as agricultural workers in the fields.
As well as agriculture a number of other industries are on the wane, one of which is manufacturing, which was the most dominant industry in 1841. Agriculture and manufacturing have been eclipsed by the rise of the services sector, which covers a huge array of jobs in areas such as retail, health, education, finance, and public administration.
News