Organic farming on the decline in the UK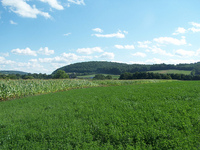 Organic farming in the United Kingdom fell to its lowest level on record last year. Experts are claiming that this fall is due to the fact that struggling consumers have abandoned the sector.
The amount of land set aside by farmers for organic crops and livestock, dramatically reduced last year to 605,329 hectares. This is the smallest areas since records began in 2002.
The are used by these farmers is now almost a fifth less than the area used at the height of the organic boom in 2008. During this time sales hit £2.1bn, and the decline looks like it could accelerate in the coming years.
The rate at which the decline happens is set to increase because the amount of farming land being converted for organic use fell, last year, to just 32,223 hectares, which is its lowest level in at least 10 years. This figure is just one sixth of the level of land "in conversion" in 2002.
A key indicator of the total area of land that will be given over to crops and livestock in the coming years, would be the amount of organic land being converted. The conversion tends to take two to three years to ensure all the system is entirely decontaminated.
Before the recession, the sales of organic food and drink soared - in fact, it well over doubled from just over £800m in 2000 to £2.1bn in 2008. However, these figures have steadily fallen since and were at £1.64bn in
2012.
News