Optimism in sheep industry after summit
News
•
Wednesday 20 February 2013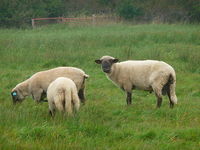 The ongoing challenges facing the sheep industry have been the topic of discussion among livestock representatives from the UK farming unions.
Delegates have been meeting in London to discuss the issues and a summit was then called following a very challenging year for producers.
The tricky year was confounded by the poor weather as well as a longer finishing period, rising costs, disease challenges and a marked drop in lamb prices.
The summit, which was held yesterday (19 Feb) heard from the members of UK farming unions as well as members of farming unions from France, Spain and Ireland. They outlined many of the same concerns via a conference call.
A joint industry statement said: "Confidence in the sheep sector is at rock bottom. Factors such as the weather, rising costs and disease are contributing to make the 'perfect storm' and farmers are being left to produce lamb at less than the cost of production.
"All four UK unions have committed to pull together to address the challenge farmers in countries across the EU are facing from cheap New Zealand imports and pressure on farm margins. We believe there is scope to review Specified Risk Material controls which devalue older lambs and we would also urge the UK processing sector to take more of a lead to improve transparency for producers in the deadweight lamb market.
"Despite the troubling times, we believe there are grounds for optimism in the long term. We know our lamb is in demand both at home and abroad but the industry must regain its confidence to invest in the future if we are to exploit these opportunities."
News