Only a few days left to apply for part of the £5m Dairy Fund
News
•
Wednesday 29 May 2013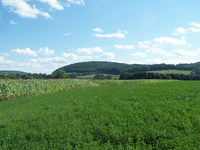 Last month we revealed that the deadline to apply for a share of the Dairy Fund had been extended until June, well, here is an extra reminder. If you are thinking of applying for a part of the £5m fund then the closing date for applications is coming soon. June 3rd 2013 is when the application process closes.
The fund, which is being supplied by Defra, is competitive and the government branch will select the applications which offer the biggest gains to the most people, for further consideration.
In the initial stage of the application only small details are required by Defra. However, anyone who is planning on submitting an application should first read the handbook. This clarifies that certain information is mandatory, such as applicant category, business size and project description. However, it also reveals which details can be left out and then gathered together if and when Defra invites them for a full application.
For example, an outline application only needs to provide a brief note about why the project is needed. Not until full application stage is a detailed business plan required with supporting market research looking in depth at supply, need and demand.
Speaking about the Fund last month the NFU dairy board chairman, Mansel Raymond, said: "The dairy fund is about supporting growth in the dairy industry. This result, that applications can still be received, is great news and I would encourage all dairy farmers to take this opportunity and give applying some serious thought.
"The funding is available to help meet the costs of setting up co-operative or collaborative projects and exploring new market opportunities.
"Having this money made available is essential to improve farmers' competitiveness, and this is a real opportunity to boost collaboration in the dairy sector and ensure its long term sustainability."
News