Oilseed rape farmers still free to sell crops for use in biodiesel
News
•
Monday 18 March 2013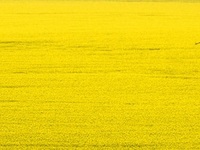 Producers of oilseed rape are still free to continue to sell their crop for use in the production of biodiesel after successful lobbying by the NFU and its industry partners.
It comes following a recent revision of official government figures on the greenhouse gas (GHG)
emission levels of oilseed rape, originally submitted in the Department for Transport's NUTS2 report.
The previous report had not accounted fully for improving agricultural practices and yield improvements, which would have prevented some parts of the UK from selling oilseed rape for biodiesel production without a financial penalty and a large amount of paperwork.
The NFU worked hard in order to improve and update regional GHG emissions data, and they worked in conjunction with project leaders HGCA and the DFT in doing so. They also ensured that all UK farmers could continue to have access to the full range of oilseed and cereal markets, including bioenergy.
NFU biofuels spokesman Brett Askew said: "We are delighted with the work the DfT and HGCA have put into reviewing this data. This process has been an excellent example of the Government working with industry and using clear, scientific evidence, on which to base decisions; something I hope will be translated across all government thinking on bioenergy production.
"For now we are pleased with another successful outcome following the approval of the Red Tractor in August 2012 as a Recognised Voluntary Scheme, allowing feedstocks from Red Tractor assured farmers to count towards mandatory national renewable energy targets."
News