Northern Irish farming figures positive but the reality is still harsh
News
•
Monday 05 August 2013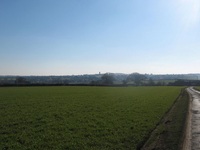 Late last week the Ulster Farmers' Union reacted to the latest Defra annual report on Northern Ireland's Agri-Food processing sector, saying that though the figures are encouraging, the harsh reality facing farmers cannot be ignored.
Speaking on the Union's official website, Harry Sinclair, the UFU President, commented on the encouraging figures.
"The fact that the Northern Ireland agri-food processing sector has continued to grow by 6.4% in 2011 and an estimated 4.2% in 2012, especially since these have been very challenging economic times, is encouraging," He said.
Sinclair also went on to state how crucial the agri-food industry's role is in the Northern Ireland economy. He also added that the report has highlighted great potential for growth.
Even with all of this positive news, Sinclair did add: "However, the current reality facing farmers cannot be ignored. Farm incomes were hit hard in 2012, falling by 50%, mainly as a result of production costs rising at a startling rate.
"Profitability remains a very significant issue for Northern Ireland's primary producers and cannot be overlooked. The very foundations of our agri-food industry are under threat and if the industry is to grow and flourish, this needs to be addressed."
What with the potential of the agri-food industry being a current hot topic, earlier this year, the Northern Ireland Agri-Food Strategy Board published its recommendations to deliver a further 60% increase in sales. It aimed to reach £7bn by 2020, which would largely be achievable through export led growth.
"I think it is recognised that there is a very real opportunity for growth and development which should not be missed," added Sinclair.
"The Department's annual report further supports the work and targets of the NI Agri-food Strategy Board and reaffirms that commitments made by the government are not misplaced.
"However, in order to capitalise on this opportunity there are some significant supply chain issues that need to be addressed.
"The central message from the Agri-food Strategy Board is that our industry can only really achieve its full potential if we are working within a fully integrated supply chain and that ALL supply chain partners are profitable.
"More work still needs to be done to ensure primary producers are getting a fair share of market returns and the UFU will continue to press to see that the Agri-Food Strategy Board recommendations are implemented properly."
News