North East farmers head to Ireland to learn new methods
News
•
Monday 12 August 2013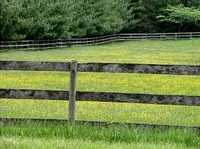 Farmers in the North of England are have spent some time in Northern Ireland to look at a range of different farming systems from the uplands to lowlands and from intensive to extensive farming.
The group visited Sam Chesney to learn more about possible methods. Sam is a past Farmers' Weekly Award finalist and is also known as being an innovative, forward-thinking farmer.
Mr Chesney currently farms 120 continental suckler cows over 61ha producing suckled calves, which are then reared as bull beef and sold fat to ABP or sold as bulling heifers.
Speaking to The Journal, Mr Chesney said: "My focus is on high herd health, good genetics, grassland management and maximising production of every cow, which incorporate British Blue, Limousin and Aberdeen Angus genetics.
"The introduction of rubber slats has enabled the business to save money on the ever-increasing price of woodchip, but also on straw, which was proving a big cost."
His fantastic attention to detail allows him to scrutinise every area of the business. This allows him to make cost savings and also manage his efficiencies.
Continental genetics were favoured in the uplands, despite Mr Chesney farming in the lowlands. The English farmers took a trip to Glenwherry Hill Farm, which is part of the College of Agriculture, Food and Rural Enterprise. This provided a good insight into how continental and native breeds are able to work together.
There are 100 suckler cows and 1,100 breeding ewes on the 1000ha farm. The cattle are a three-way cross between Limousin, Aberdeen Angus and Beef Shorthorn. The sheep flock is also a mix of Blackface, Primera and Highlander. The cattle system being used on this farm has worked well and produced a closed herd of cows, which are medium in size and fit the land. These animals also give a strong calf which grows well and can be sent on to their lowland farm for finishing.
Though this choice of sheep system at Glenwherry isn't very common, it is a system that is favoured by sheep farmer Crosby Cleland.
Mr Cleland runs a farm that has 750 Lleyn, Primera and Highlander ewes and he focuses on flock management. Keeping a meticulous record through the Shearwell EID and Frameworks programme, his main aims are to increase growth and numbers of lambs weaned to achieve greater output while trying to have an easier care sheep system. His method of trying to produce more per hectare and to run a more extensive system means his labour is decreased.
Source: The Journal
Picture: Scott Robinson
News