Norfolk Farming Conference focuses on growth and renewable energy
News
•
Friday 22 February 2013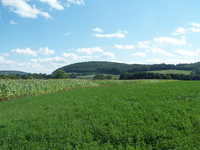 The opportunity for farming growth and for renewable energy production were both at the forefront of the Norfolk Farming Conference.
Delegates at the conference, which was held at the John Innes Centre on Norwich Research Park, were told that farming has the opportunity to deliver growth and jobs as well as to produce world-class quality food and drive the 'engine of renewable energy'.
Adam Quinney, the vice-president of the National Farmers' Union told the 400 or so delegates that one third of the country's farms have now invested in renewable energy.
He went on to explain that farmers in Britain are at the forefront of the 'low carbon growth economy' and can make a huge contribution to the production of energy.
The event was held just days after the government made an effort to highlight the looming energy crisis and Mr Quinney went on to state that the countryside could be the 'engine room for new, green farming'.
He was quoted by the Norwich Evening News as saying: "Given the right policies and signals from government, the NFU believes that farming could deliver up to 25pc of Britain's renewable energy needs in the coming decades
"And Norfolk farmers have got a massive potential also to produce energy, too."
He also told the conference that the key Whitehall departments Defra and Decc (Department for Climate Change) must recognise the full potential of land-based renewable energy production.
His message was positive and upbeat as he told the delegates that farming had invested in solar power, which is the most popular technology, followed by wind-turbines and then other forms of bio-energy. And, he added that, given the backing, farmers could produce more.
Mr Quinney, who is an arable and livestock farmer from the West Midlands, also said that the NFU's aspiration is for 'every farmer to be a clean, energy exporter'.
News