NFUS calling on supermarkets to source chickens from Scotland
News
•
Monday 25 November 2013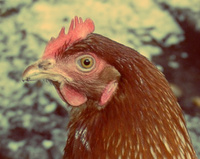 The Scottish arm of the National Farmers Union, has written to the major retailers across the UK this week to urge them to source more chicken from Scotland.
These letters came in the wake of an announcement that there could be potential job cuts at 2 Sisters Food Group in Coupar Angus, along with a potential reduction in shifts.
NFU Scotland understands that 2 Sisters is negotiating at present with its major retail customers to identify the future volumes and profile required from Scottish producers.
These negotiations will have a key outcome in determining the shape of 2 Sisters' processing operation, as well as all farm production in Scotland.
At this stage in the negotiations, NFU Scotland has written to all of the major retailers, including Asda, Tesco and Morrisons, to stress that it is important that they do their bit to ensure the future of the Scottish poultry industry.
NFU Scotland has also been speaking to a number of other various parties, including the 2 Sisters Food Group, Scottish Government and 2 Agriculture.
2 Agriculture is an agriculture business which spans the full supply chain from food mills and hatcheries to the production of table birds. It also supplies poultry to the 2 Sisters Food Group.
After talks with the Scottish Government, a focus group is to be set up in order to look into the impact that the announcement will have on the agricultural sectors as a whole.
This focus group will be tasked to identify the key challenges faced by this sector in sustaining market share and in the long-term, increasing the volume of quality production.
Nigel Miller, the President at NFU Scotland, commented on the situation, saying: "We recognise there has been significant commitment by some major retailers sourcing fresh chicken from Scotland. It is however vital that the local sourcing policy is visible throughout the chicken shelf space in the stores.
"Shelfwatch has identified a real gap in retailer commitment. We have really got to get an understanding from the retailers how we can actually serve their needs better and if investment in further processing, presentation or packaging is required to have a greater shelf share in Scotland.
"I have written to the major retailers to gain an understanding of their commitment. We need to know where the scope is to grow the market, where the weaknesses are and why there are significant volumes of produce sold from other parts of the UK and farther afield in our supermarkets. A partnership approach can support a vibrant sector underpinned by farmers that have invested heavily to ensure quality production and high welfare standards. It is urgent that we address this."
News