NFU Warns retailers over pushing horse gate prices down
News
•
Thursday 15 May 2014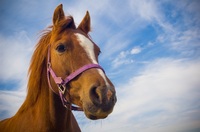 The National Farmers Union has warned some members of the meat trade about their opportunism and short-term thinking over the fall in farm gate beef prices.
The attitudes of some towards the dramatic fall in prices, will damage the long-term relationships that were promised after the horsemeat scandal.
It is only 18 months since the scandal emerged and many farmers are angered by processors and retailers in the industry attempting to take advantage and force farm gate prices back down to what are deemed as unsustainable levels.
Farm gate prices are currently, on average, around £3.50/kg, which is back from £4/kg at the same point last year. Producers in the South are seeing the lowest prices at below £3.30/kg.
These prices are, in fact, the lowest seen since 2012.
Rising retail prices, combined with these dropping farm gate prices, has seen the producer share of the final retail price drop from 59 per cent to just 50 per cent over the last 12 months.
Charles Sercombe, the NFU livestock board chairman, spoke on the union's official website saying: "After horsegate, all we heard was that retailers wanted to build lasting relationships with farmers and we challenged them to prove it, but it seems that many of their processors have fallen at the first hurdle.
"British beef farmers need the trade to recognise that long term cattle supplies are projected to remain tight and that short termism will come back to bite them.
"Although I recognise that some are working to reduce the volatility and put a base in the market, the rock bottom prices offered by others will make it even harder for processors in the future to secure beef supplies and will damage farmer confidence and undermine relationships across the chain."
Mr Sercombe continued: "Our farmers need support; processors and retailers need to live up to their promises, and to actively promote our product to British consumers."
Adam Rowden is a writer for Farming Ads view his
Google
+ page.
News