NFU warns farmers against Defra hoaxes regarding TB and badger culls
News
•
Monday 25 March 2013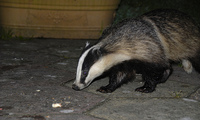 The NFU has today issued a warning to farmers about people claiming to be from Defra and giving a supposed reference number and start date for the badger culls.
They had heard that some farmers in Somerset and Gloucestershire are being contacted by these people, and after contacting Defra, they have revealed them as hoaxers.
Defra are not contacting farmers regarding the badger culls and will not be at any point. Farmers are being encouraged not to give out any information to these hoax callers.
If you do have any concerns regarding this situation and you would like to report the hoax calls, then contact the NFU on their CallFirst number - 0870 845 8458.
On other badger cull related news, the NFU has also announced that it is relaunching its TB Free England Website - tbfreeengland.co.uk. It has had a full makeover and an FAQs section with videos showing how farmers' livelihoods are being devastated by the disease.
Tens of thousands of cows are culled every year because of TB in Great Britain and the new website has been set up to provide factual information about the disease and the urgent need to control its spread in badgers and other wildlife.
News