NFU team to raise money for Farm Africa in Ride London
News
•
Tuesday 30 July 2013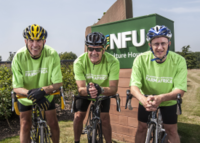 A team of cyclists from the NFU are all taking part in Ride London, in aid of the charity Farm Africa.
The team will be using their biking talents to continue its long-standing NFU support for the charity, which helps farmers in Eastern Africa grow and secure food supply.
The NFU team consists of Martin Haworth, Richard Wordsworth and John Haselden, and they will be taking part in Ride London, which takes place on August 4th.
The guys are all raising funds before they set off to the event, which starts at the London 2012 Olympics Complex. The route will take them over a 100 mile trip, which includes three challenging 200 meter hills. The race begins at 6am and finishes within nine hours of the start time.
Mr Haworth, who led the Africa 100 fundraising team to climb Mt Kilimanjaro in September to raise £40k for the charity, said that Ride London would be a challenge but one he and the team were ready for.
"We have been training, cycling local routes in Warwickshire near the NFU headquarters, and so we're ready for what promises to be a great event. More importantly is the fundraising that is starting in earnest now to raise money for Farm Africa.
"Having seen for myself some of the charity's projects I know how their approach, working with farmers to improve crop health, increase yields, and share their knowledge with other farmers, is really helping to increase food security where it matters most.
"I would urge everyone to support us by donating whatever they can. Every donation, no matter how small, helps us to help farmers in Eastern Africa to do what we all take for granted; enjoy a secure food supply for them and their families."
Looking forward to this year's Ride London, Farm Africa's Head of Corporate and Community Fundraising Cathy Wentworth said: "It has been a hugely challenging year for farmers here in the UK so it's wonderful to see the NFU continuing to build its strong commitment to Farm Africa and its work.
"As with last year's Kilimanjaro Climb, the team's participation in RideLondon shows how determined farmers here in the UK are to support their fellow farmers in eastern Africa. I'd like to thank the NFU team for all its fundraising and hard work training for the event and to wish everyone involved the very best of luck."
To support the team and help them raise money for this fantastic cause, click here.
News