NFU taking Back British Farming back on the road
News
•
Monday 30 September 2013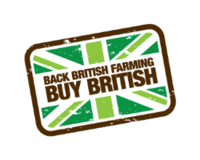 Here at Farming Ads we love a good cause. And that is why we were pleased to hear that the National Farmers Union is taking its Back British Farming message back out onto the road.
They will be touring the country in order to build on the support that has already been shown from politicians, retailers and members of the general public.
The 'ad-van' will be setting off today (Monday) from the Conservative Party Conference in Manchester, where it will also be part of the city's Food and Drink Festival.
The tour will last nine days and will head to several iconic landmarks including the Angel of the North and the Eden Project. The team will also be stopping off at Morrisons' HQ in Yorkshire, and at the home of digger firm JCB in Staffordshire, before it heads off to Cardiff Bay.
The final destination of the tour will be Angelus, which is a cracking French restaurant in London, where the owner Thierry Tomasin will become the first restaurateur to sign the Back British Farming Charter.
Last month saw the charter launched in order to highlight a decline in the country's self-sufficiency.
The main aim is to put more British food on British plates and the charter has already had over 1,400 people sign up to it, including Waitrose, The Cooperative and celebrity chef James Martin.
Adam Quinney, the NFU Vice President, spoke on the union's official website, saying: "We have had a fabulous response to the Back British Farming campaign so far, with great support from MPs, supermarkets and from members of the public.
"The ad-van will be launched shortly before our fringe event at the Conservative Party Conference in Manchester and will head to all parts of the country – it's the perfect way to spread our back British farming messages even further in the hope of encouraging more people to sign up to our Charter.
"British farmers and growers invest huge amounts of time, effort and resource to produce quality food which complies with standards that set them apart from other global producers.
"To produce more food producers need the support of politicians, retailers, restaurants and food processors to allow them to do their job. Our charter calls for a commitment to put British farming at the heart of feeding our nation."
You can follow the Back British Farming tour on our interactive map here.
News