NFU supports Great British Beef Week
News
•
Tuesday 23 April 2013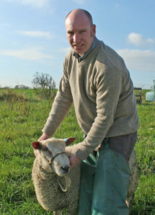 The NFU has today announced it is supporting a number of Host-a-Roast events that are being held across the country in celebration of Great British Beef Week. These events will also be held in order to raise funds for the Royal Agricultural Benevolent Institution (RABI).
In order to mark the week, Ladies in Beef have also put together a handy Shopper's Guide that is available here. The guide can help consumers know for sure that what they are buying is British.
Minette Batters and Jilly Greed are the co-founders of Ladies in Beef and they recommend that shoppers look for the Red Tractor logo that features the Union flag. Not only is it one of the best indicators of British beef, but it also provides a guarantee of traceability and independent inspection.
The NFU beef group chairman, Andy Foot, has also offered his support to GB Beef Week and he recently attended a Host-a-Roast event at Kingston Maurwood College Dorset. Speaking from the event he highlighted the importance of accurate labels.
Mr Foot said: "This week is all about celebrating the best of British and what better time to do that in England than on St George's Day.
"We produce some of the best beef in the world and our farmers are rightly proud of their product. Beef plays an essential role as part of a healthy balanced diet, provides a ready source of essential vitamins and minerals and most importantly it tastes great.
"Consumers are in a fortunate position that we can produce this great quality food on their doorstep here in the UK. Since the start of the year there has been a renewed enthusiasm by the public to seek out British beef in the shops and the Ladies in Beef 'Shopper's Guide' will help them understand exactly what it is they are buying."
Charles Sercombe (pictured), the NFU livestock board chairman, said: "British farmers' rear their beef to high standards of welfare and their cattle help manage some of the most valued landscapes in this country.
"Great British Beef Week is a fantastic opportunity to celebrate and we would urge everyone to support the charity events taking place up and down the country, but most importantly, tuck into some great tasting British beef."
Photo courtesy of the
NFU
.
News