NFU South East members updated on bTB vaccinations
News
•
Wednesday 13 February 2013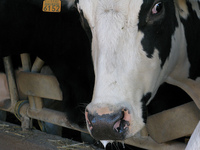 Members of the NFU South East undertook a fact-finding visit on bovine TB (bTB) to the world-class research facilities at AHVLA (Animal Health and Veterinary Laboratories Agency) in Weybridge, Surrey.
The visit took place on 7th February and Rupert Hine, AHVLA's Director of TB Eradication, said: "The visit prompted some lively and interesting conversations, and I think both parties got a great deal out of the day. Bovine TB is one of the biggest challenges facing the cattle industry. If we are going to eradicate this disease it's vital that government and farmers continue to work in partnership."
Bovine TB is the largest area of work for AHVLA. The organisation is responsible for 60,000 surveillance tests in cattle and the NFU South East adviser, James Osman commented saying: "Understandably, farmers expressed dismay over the increased incidence of bTB and aired strong views on the business impacts arising from cattle controls rolled out as part of the Government's bTB eradication programme. But they were full of admiration for the scientists working to help find a solution to the scourge of bTB. What became very clear was how one single measure alone will not work - only a package of measures can be used to tackle bTB."
Under EU law the vaccination of cattle with BCG is not lawful and the NFU has recently learnt that is could be five years before data from its field trials is available. Said data is required as a necessary first step before consideration could be given to lifting the ban.
It would be necessary to gather and present evidence to the European Commission from large scale field trials of cattle BCG to prove safety, efficacy and to make recommendations on vaccination frequency.
Another potential issue that may be problematic to any cattle vaccination programme is the DIVA test to distinguish between a vaccinated animal and a bTB infected animal. This test is, however, feasible and under evaluation.
Members heard the results of BCG vaccination of cattle in a laboratory experiment (an artificially high disease challenge) and also field trials in Ethiopia where bTB is endemic. "Cattle vaccination isn't a panacea but the field trial results were encouraging, with 68% efficacy," explained Mr Osman.
He added: "Badger vaccination by injectable BCG was debated. While badger vaccination cannot cure a sick badger of bTB, it can reduce the progression, severity and excretion of bTB by badgers. Experience to date suggests, however, that costs of annual badger vaccination could be as much as £650 per badger. And while badger vaccination is expected to result in the reduced transmission of bTB to cattle, there is no empirical data and a large scale field trial would be necessary."
News