NFU responds to Daily Mail chicken antibiotic claims
News
•
Wednesday 14 August 2013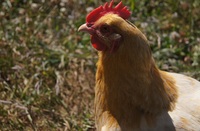 The National Farmers Union has released a statement in response to claims made by the Daily Mail that could mislead and scare readers.
Tom Rawstorne wrote the article in the paper, which was titled; 'How drugs pumped into supermarket chickens pose a terrifying threat to our health'. The NFU has claimed that the Rawstorne used out-of-date and discredited research and also compared different systems of production in the UK and the Netherlands on a like-for-like basis. The union also stated that Rawstorne made a number of unsubstantiated claims.
In their statement they also mentioned the fact that the Daily Mail completely disregarded the considerable efforts of the British farmers to address issues surrounding antibiotic resistance. This is made even more frustrating when you consider their work with the Responsible Use of Medicines in Agriculture Alliance.
NFU Vice President Adam Quinney wrote a response to the Daily Mail, which was sent to the paper, and made available on the union's official website. Here is his response in full...
Sir
The article by Tom Rawstorne 'How drugs pumped into supermarket chickens pose a terrifying threat to our health' (Daily Mail, August 10) is written in a way that could mislead, misinform and scare Daily Mail readers. In the current climate when households need to balance every penny, they should not be made to feel guilty or frightened that something as nutritionally important as a British chicken will cause them or their families harm.
Mr Rawstorne highlights a report recently provided by the Soil Association to back up his opinions. Unfortunately, the Soil Association failed to point out that the research into antibiotic resistance in The Netherlands, which had initially suggested a link between resistant bacteria in humans and poultry, is now out-of-date. Recent work from the same research team using more sophisticated methods has led them to reassess their original results and they have now concluded that chickens were not the source of the human infection.
Making a like-for-like comparison between The Netherlands and the UK was also flawed as the British poultry meat industry voluntarily stopped the use of certain categories of antibiotics, such as 3rd generation cephalosporins, considered to be critically important to human medicine. These were still used in The Netherlands in 2009 when the original research was carried out.
The NFU agrees that antibiotics are a precious resource and must be used responsibly. It is our strongly held belief that antibiotics should be used as little as possible but as much as necessary to protect the health and welfare of our farmed animals.
The facts are that before veterinary medicines can be used for food production animals, they go through rigorous licensing conditions and tests which detail dosage rates, methods and application routes, human safety, environmental safety, and which also dictate when it is safe for an animal or its products to re-enter the production cycle after treatment. Veterinary medicines for food production animals require a prescription, and the animal keeper must record every use.
Chickens bred and produced in Britain are not 'dosed up with antibiotics' nor are they genetically modified. There is also no proof to substantiate Mr Rawstorne's claims that more intensive systems 'massively magnify' the risk of disease – standards of husbandry and care are the important factor, not whether an animal or bird is kept in an extensive free-range system or not.
British farmers work hard to provide food that is safe to eat, wholesome and tasty. We are one of the most highly regulated industries with checks and audit trails conducted throughout the food production process to ensure that food produced in Britain comes from animals and birds that are free from disease and chemicals that would harm us. The high health status of our animals is paramount to ensuring that this is possible. Farmers are actively encouraged through food assurance schemes and retailer or processor contracts to develop management relationships with their veterinary surgeons and to undertake disease prevention and control activities such as vaccination regimes.
Sometimes though, animals will still get sick and they need to be treated, but even then British farmers have very robust rules that they must follow to ensure consumers' health is not put at risk. Buying food produced in Britain and looking for the Red Tractor quality assurance standard are the best ways that consumers can be sure that the food they buy meets these high standards.
The NFU is a member of the Responsible Use of Medicines in Agriculture Alliance (RUMA). RUMA is an alliance of 23 organisations, which includes the British Poultry Council and the British Retail Council, representing every stage of the "farm to fork" process and which aims to promote a co-ordinated and integrated approach to best practice in the use of medicines on farm. Antibiotic resistance is a complex issue and all groups need to work together to develop decisions based on sound science to manage the risks while allowing the optimum benefit to be gained from the use of antibiotics to treat humans and animals.
Human use (or misuse) of antibiotics is the single greatest risk factor for resistance development in bacteria within humans. This is well documented and acknowledged by the Health Protection Agency.
There is no difference in organic and non-organic chicken with respects to the human health aspects – this has been well documented and reported on several occasions by the UK's Food Standards Agency.
There is no evidence to link resistance in humans to use of antibiotics in animals.
British chicken is nutritious and versatile and consumers should continue to feel confident that they're buying a product that is produced to the highest welfare standards.
NFU Vice President Adam Quinney
So, there you have it, a very well worded and solid response from the NFU. What do you think of the Daily Mail's reporting of this issue? Do you agree with Adam Quinney that the article could have unnecessarily scared and misled anyone who read it?
News