NFU President Peter Kendall speaks out about combating flooding
News
•
Monday 10 February 2014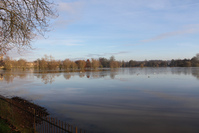 Peter Kendall, the president of the NFU, recently visited some of the country's most seriously flood hit areas in Somerset, Gloucestershire and Oxfordshire.
Kendall said that Britain needs to become more resilient and better managed when it comes to flood defences, in order to protect life and the environment.
The government has recently announced that it will be spending £100 million and a further £30 million on flood maintenance and repairs.
This was welcome news to the NFU, however, Kendall said that more needed to be done.
The NFU has called for the government and Environmental Agency to learn the lessons of these devastating floods. We have been in a similar situation before, as recently as 2007 and 2012, and climate change scientists have predicted precisely this type of event becoming more and more frequent in future decades.
Mr Kendall spoke on the matter saying: "Because of this we need more resilient, better managed flood defences with the capacity to protect life, property and farmland from excessive flooding. We must use all the tools available to us and make dredging a priority.
"Declining maintenance in rivers and watercourses and reducing investment in pumps and infrastructure is reported across the country. It's not all about Somerset of course, but Somerset is a prime example of two decades of underinvestment."
Suggesting what needs to be done, Mr Kendall said: "We must see a re-balancing of flood defence spending towards maintenance, which has declined by £49 million over last five year, as part of the aim to reduce the severity of flooding.
"We also need to see high quality farmland being given a far higher priority in flood protection. The Government's policy on flood defence must recognise the importance of food production and the business of farming and any funding provided for recovery needs to reflect this.
"Some of the debate in recent weeks has been about choosing between protecting urban and rural areas. This is an incredibly simplistic, not to mention dangerous, argument when in fact both must be protected and have a role to play in reducing flood severity."
News