NFU President calls for land agents to help farmers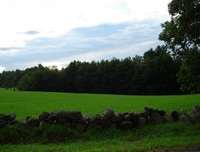 NFU President Peter Kendall has spoken out saying that rural land agents must help champion the tools farmers need to be able to produce more British food.
Mr Kendall made these comments at the RCIS National Rural Conference, in Cirencester. At the event he also urged land agents to take a long-term view on land management in order to enable farmers to invest in diverse and profitable farming businesses.
"The short-term winner-takes-all tendering that has been happening over the past few years does not encourage or enable farmers to invest in a diverse farming business." He said.
"Investment is vitally important in buildings, infrastructure and renewables to be able to take opportunities and most important of all they must be able to invest back into the land to maintain soil fertility.
"To meet this challenge, it will only be possible if we get away from the re-tendering of land every two years to the highest bidder.
"It is essential that everyone works together to deliver a more productive agriculture - retailers must give long-term commitments, land agents should champion opportunities, and planners must deliver planning permission for buildings that help improve welfare, boost environmental standards and increased production."
News