NFU President calls for fresh thinking on farming from the Government
News
•
Wednesday 02 January 2013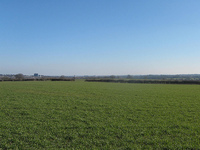 Speaking to a regional news website a leading industry figure has called for a new approach to agriculture from the Government.
Peter Kendall, president of the National Farmers' Union, called for the new approach as farmers in the Westcountry continue to suffer from the results of last year's extreme weather.
Kendall said that there are a number of issues that need to be positively addressed, and he cited the fact that the nation's farming sector lost £1.3 billion in 2012 as a reason for this.
Speaking to This is South Devon Kendall said that 2012 has shown the cost that the extreme weather can have on farmers and the food supply chain.
"As we enter 2013 many farmers are in areas under water or facing huge feed bills for their livestock." He said.
"Extreme weather certainly requires fresh thinking from agricultural policymakers and the whole food-supply chain to ensure that our farmers can adapt and our food supply is resilient."
He went on to suggest that farmers would be aided in planning in volatile and uncertain times by better relationships and sharing in risk in the food-supply chain.
Retailers have been creating meaningful long-term relationships with farmers over the past few years which is evidence of positive moves that can and have been made and they also work wonders in ensuring security in the supply to consumers.
The reform of the European Union's Common Agricultural Policy (CAP) has become a major issue that has directly affected farmers.
Kendall said that he is not calling for the CAP to be exempt from the cuts, but he says that they have 'urged the Government to help to make current, distorted markets work properly and to ensure our farmers are treated fairly.'
"In years like 2012 it is very clear to see that the support farming receives from the CAP is an absolute lifeline to many farmers. If there is to be a reduction in these payments it should take place evenly across Europe's single market." He continued.
He spoke of the disparity between different nations' spending on farming saying that an English dairy farmer who runs a typical 100-hectare farm, is receiving 20,000 euros a year less than a Danish or Dutch competitor.
If the British farming industry is going to grow and develop as it will be required to with the increasing population, it is going to need, according to Kendall, some new fresh thinking.
News