NFU pleased with Christine Tacon's appointment as the Groceries Code Adjudicator
News
•
Monday 21 January 2013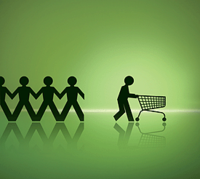 Christine Tacon, the former Co-operative farms managing director, has been appointed as the first Groceries Code Adjudicator. The NFU has called the appointment an important step in the battle to ensure fairness across the supply chain.
Ms Tacon's main responsibility will be to enforce the Groceries Supply Code of Practice, which is used to regulate interactions between the ten largest supermarkets with an annual turnover of over £1bn and their direct suppliers.
This move has been called for by the NFU for a long time now. The union was calling for an adjudicator to not only ensure a level playing field in the supply chain, but to also have the power to take credible evidence from reputable sources as well as the ability to fine retailers that are found to have broken the code of practice.
NFU head of food and farming Phil Hudson said: "This is an important step forward and will reassure farmers that progress continues to be made to introduce an adjudicator that will have the necessary 'teeth' to curb the abuses of power that can undermine farmers and the supply chain, with implications for consumers.
"We lobbied Government for an independent adjudicator who can enforce the GSCOP, and can ensure a level playing field across the supply chain, and we are pleased to see this has come to fruition. Now Ms Tacon has been appointed, we look forward to her taking up post and quickly getting to grips with the issues affecting our members. Once she has formally taken up her role we will look to meet her to discuss our concerns over the way in which the supply chain operates"
News