NFU Cymru discuss a whole host of farming issues with Welsh shadow minister
News
•
Friday 22 March 2013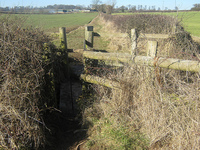 The Welsh arm of the NFU - NFU Cymru - met with the Conservative Shadow Minister Antoinette Sandbach AM, in Abergavenny recently, and the developments in CAP reform, the food chain and animal health were all hot topics of discussion.
Other topics that were highlighted as key challenges facing farmers on a daily basis included the Schmallenberg virus, sheep scab and bovine TB.
Speaking after the meeting, Monmouthshire NFU Cymru County Chairman, Nigel Bowyer told Farming UK: "I am pleased to have had the opportunity to meet with Antoinette and to raise a number of issues of concern with her.
"There have been further developments in CAP reform recently as the whole European Parliament voted on the current proposals and NFU Cymru have emphasised the need to ensure that productive agriculture remains at the heart of any future Common Agricultural Policy.
"Another important issue for Wales is how we move away from our historic basis of payment to a flat rate model, and I am pleased that there is recognition amongst the European Institutions that it will take time for businesses to adapt to the new area based system."
After discussing the CAP reform, Antoinette was then informed about the current issues with the food supply chain.
Bowyer continued saying that the horsemet scandal has shown what can happen when the supply chain is "allowed to become too long and complex". He also noted that the farmers are quite rightly "very angry" about what has been allowed to happen.
He said: "We hope that the Union's recent advertising campaign, the concurrent HCC campaign which is encouraging all shoppers to 'look for the logos' and also the Red Tractor logo on fresh meat, will help consumers to make an informed choice."
A number of serious animal health challenges that face farmers were also discussed, the main issues were Schmallenberg, sheep scab and bovine TB.
Responding to the recent Welsh Government re-shuffle Mr Bowyer said, "I'm pleased that agriculture has been promoted back to Cabinet level and makes sense that animal health and welfare will now sit alongside agriculture in the portfolio of the new Minister for Food and Natural Resources, Alun Davies."
He noted that the recent stats and figures have revealed that there were over 9,300 cows culled in Wales last year as a result of bovine TB. This was a dramatic 15% increase on 2011.
Source: Farming UK
Picture: Eamon Curry
News