NFU campaign Farming Delivers for Christmas a success
News
•
Wednesday 16 January 2013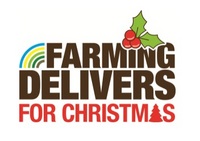 A fantastic seasonal NFU campaign has helped thousands of consumers to understand the essential role that farmers play in delivering many of the foods and traditions enjoyed during the festive period.
The campaign, called Farming Delivers for Christmas, was used to showcase farmers from every sector across the UK as they displayed the quality and variety of foods produced in Britain and how they are farmed.
The activity was part of the Farming Delivers for Britain campaign, which was launched last year.
The campaign website - farmingdelivers.co.uk - was used to promote the campaign and it managed to enjoy a 400% month-on-month increase in visitors in December.
'Farming's 12 Gifts at Christmas' proved to be a very popular feature of the campaign. It was an online advent calendar featuring case studies of a farmer and their seasonal produce behind each window. The gifts included British Christmas trees grown by Melvin Cocksedge, stilton cheese produced by dairy farmer Nick Connors and a farmers' winter market.
Media work supported the activity both nationally and regionally. Notable examples include Julia Evans' farm-based Nativity plays which were featured on BBC Newsround, quotes from Guy Poskitt about parsnips in the Yorkshire Post and sprout farmer Martin Tate interviewed for BBC Breakfast and the BBC website wearing a Farming Delivers for Christmas fleece!
Other successes included:
A fun poster urging Facebook fans to "Buy British this Christmas" was shared over 1300 times on Facebook.

Tweets related to #FarmingDeliversXmas were re-tweeted 475 times – reaching 1,354,446 people on Twitter

A funny 'Adopt a Sprout' video received more than 1900 views on YouTube

The Turkeys for Troops initiative which saw hundreds of birds donated to sick and injured soldiers received widespread coverage in national, regional and trade press.
News