NFU calls for vigilance after bird flu outbreak
News
•
Thursday 20 November 2014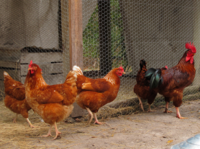 The National Farmers Union is urging poultry producers to remain vigilant after a case of influenza was discovered at a duck farm in Yorkshire.
The call has come as the NFU continues to work with the Government and the wider industry in order to minimise the impacts of the confirmed H5N8 strain.
This particular strain does pose a low risk to humans.
Duncan Priestner, the NFU poultry chairman, explained that the union has been working closely with the Government and the industry. He went on to state that they were making great efforts to ensure that their members were up-to-date on the day-to-day developments of the outbreak.
Mr Priestner said: "Clearly, this is an issue the industry and consumers have been following and it is vital that the NFU represents the interests and the views of its members.
"Some of the issues we have been working on for those farmers within the restriction zones, include ensuring producers can obtain licences as soon as possible so businesses can operate as normal.
"In the meantime, we would urge all poultry producers to remain vigilant and continue with their ongoing on-farm hygiene and biosecurity measures. Anyone who suspects that their birds might be ill should inform their local vet as soon as possible.
"It must be stressed that consumers should be aware that this is a bird health issue and that they can be reassured that eating British poultry products is safe. As it stands this is an isolated instance and while the poultry industry remains on high alert, it is business as usual."
News