NFU calls for government to make changes to aid farming going forward
News
•
Wednesday 19 March 2014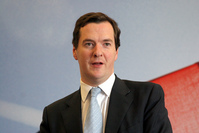 The NFU is urging the Chancellor of the Exchequer to address consistent and long-term investment allowances and better taxation tools to aid farming in this week's Budget.
The union has put forward these suggestions, and others, in an attempt to help the industry invest, grow and thrive.
Meurig Raymond, the new President of the NFU, has written to George Osborne to highlight the need for government help in order to encourage farmers and growers to invest in order to deal with the volatile weather and to help put more British food on British plates.
In his letter, Mr Raymond also asked the government to ensure that its national infrastructure plan does more in order to promote the rural economy. He suggests that they do this by reducing flood risk and fast-tracking the roll-out of high speed broadband.
He also highlighted the plight of farms that are threatened by the High Speed 2 project.
Mr Raymond said: "As George Eustice emphasised at the NFU Conference, there are huge opportunities for agriculture to grow, both home and abroad, but we need the right systems in place to give the industry confidence to invest and deal with increasingly volatile weather when it happens.
"The rural economy is worth £211 billion a year, driving local growth and contributes significantly to the wider economy. This is why we would urge government to consider our recommendations to boost investment in agriculture and close the growing gap between domestic production and consumption."
The NFU made three key recommendations to the government in order to improve circumstances for British farmers.
They encouraged the government to retain an appropriate and consistent level for the Annual Investment Allowance. They said that agriculture needs a permanent AIA level of £250,000 in order to encourage SMEs to increase investment in specialist plant machinery and to plan further investment.

They also said that the government should introduce an infrastructure investment allowance that would deliver relief over an appropriate of around 25 years. This would supposedly give the right signal to businesses that the government wants them to invest and grow, while delivering relief in an affordable manner for government.

The third of their major suggestions is that the government should bring in taxation tools to improve farm business management of volatility. The NFU has said that it wants new measures to be put in place to allow farmers to retain profits in good years in order to meet the demands of bad years, when poor weather conditions or volatile markets can affect their profitability.
News