NFU and NSA concerned over government's sheep EID proposal
News
•
Thursday 26 September 2013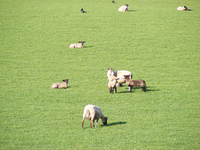 The latest government consultation on sheep EID contains proposals that could end up costing the industry as a whole an extra £1.8 million a year. The NFU and the National Sheep Association (NSA) also concerned that they could also add little to protect the industry in the event of a disease outbreak.
David Heath, the farming minister, has received a number of letters from organisations that have raised their concerns over Defra's plans to remove all of the access to the non-electronic batch tag for lambs.
The NFU and NSA also believes that this could end up resulting in an increased tag cost for the vast majority of livestock producers. The other concern is that it could also reduce their flexibility to choose the most appropriate tag for their market.
Charles Sercombe, the NFU livestock board chairman, spoke on the Union's official website, saying: "Sheep farmers have had a tough year and are still recovering from the devastating marketing season last year.
"We are very concerned that the government's favoured option to prohibit the use of the non-electronic tag completely will levy costs onto all producers with little tangible benefit in terms of traceability especially for those sending animals from the farm to slaughter."
NSA chief executive Phil Stocker added: "We understand the importance to the whole industry of having an efficient movement reporting system and an accurate database.
"We are asking the Minister to intervene to alleviate some of the further burden that may be imposed on producers and to also work to agree tolerances for incorrect reads which can lead to cross compliance fines."
News